Posted On: Jan 18th, 2017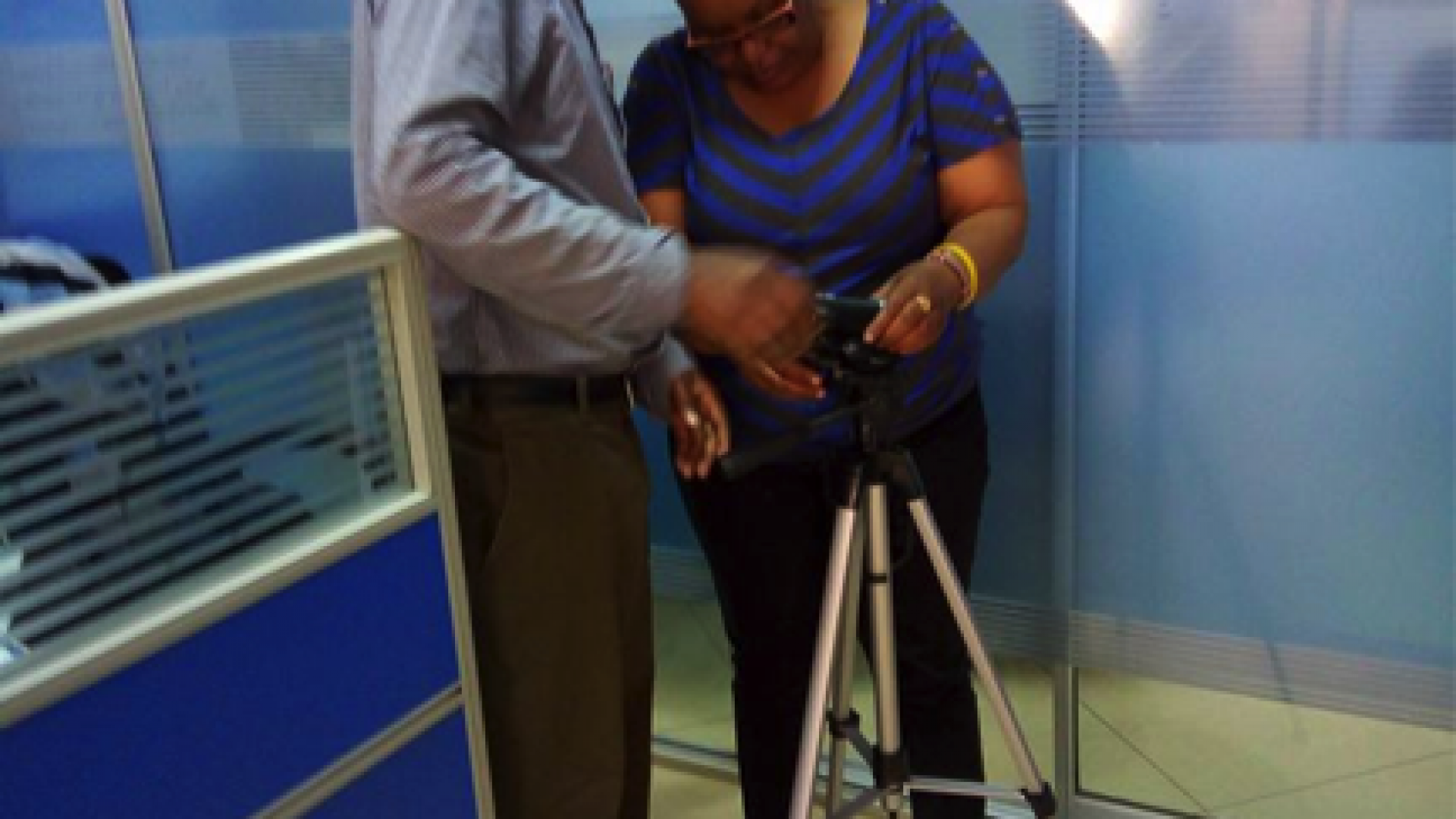 Reflecting on challenges to data collection by Nancy Gikaara
It has been both exciting, and a little challenging, working on this unique study in Nairobi Hospice, producing a number of learnt lessons that will serve as a launching pad as the study team moves to the subsequent sites.
To begin with, according to a number of those participants, the invitation to attend the hospice for an interview has helped them speak to the hospice staff about how they are faring since the loss of their relative and even say thank you for the services they received.
Indeed, to some participating in the interview has helped them open up and be able to speak about the loss of their loved; below is a post on social media by one of such respondents.
"It's been over a year since I stepped in Nairobi Hospice until today. An hour's survey with Nancy Gikaara made me relive nine months of taking care of Mum. A time I have soo far avoided to speak about, a pain I blocked and refused to deal with, sometimes I miss Njahi [a small type of legume which are a delicacy among the Kikuyu community] ... and I still can't cook them, coz she's the one who had the perfect recipe … he he he! I am trying my best a year later to grief her but I shall repeat her words. 'If cancer is my transport to [the] after life, so be it' … You may wonder why this? Why now? It's simple! During my journey taking care of her, I always wanted to join a network whereby I don't have to be strong, a place with like-minded persons, whereby I don't have to encourage someone when I am breaking inside, a place whereby you can cry and no one asks you why coz they can relate, a place whereby you can rejuvenate and when you get back to your caregiving work you are healed, energetic … you are equipped by professionals to handle this cross with love. I couldn't find such a network … It's time to realize this: if you are taking care of a terminally Ill person, a physically, mentally challenged person etc. or you have ever done this and can lift a sister, a brother ... join our group."
There have, however, been challenges as well during the recruitment of study participants, including:
Given Nairobi Hospice services a largely urban clientele, and most people in such diverse cosmopolitan settings tend to be too busy to spare their valuable time, we had a number of people not turning up for interviews – even after a number of follow-up and confirmatory telephone calls. This resulted in us taking longer than expected to complete the sample size for this site. Moreover, when they did turn up – with some presenting way past their agreed appointment time – they had limited time and it was difficult to administer all the scheduled cognitive interviews for this site.
To minimise cases of no-shows, a number of interviews were carried out at participants' places of choice (i.e., either at their homes or places of work), and these often tended to be some distance from Nairobi, involving sometimes considerable travel time.
Some of the caregivers' contact details held by the hospice are no longer valid, and even in use, and this became another 'exclusion criteria' from possible participation, hindering the recruitment process.
Some caregivers on the hospice's list had since relocated from Nairobi following the death of their loved ones. This made it a challenge to come back to the city for the proposed interview, given the cost and inconvenience incurred on their behalf as a result.
The battery life of the video recorder shown in the above photograph proved to be relatively short, meaning that I had to keep interrupting the interview periodically to install a new set of batteries.
Some interviews had to be conducted in more challenging areas of the city, including urban slum dwellings, proving a security issue for myself as a woman and also for the hardware recording equipment I had to carry.
Lastly, the recent relocation of Nairobi Hospice from its previous location has made accessibility to the facility problematic to most of those who may have wanted to attend the interviews; most of those on the hospice's list of potential respondents received care from its previous location. This again impacted negatively upon the recruitment process.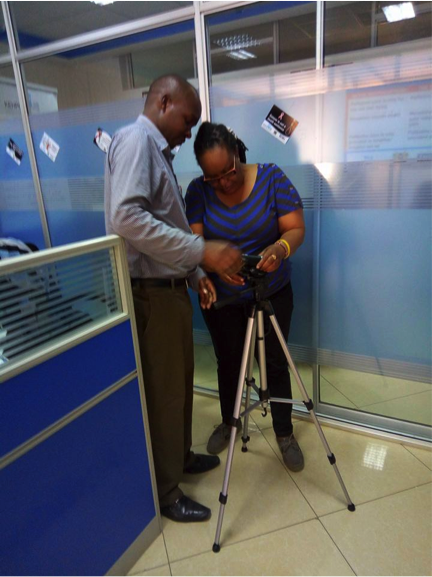 Setting up: Nancy Gikaara with IT Officer Patrick Bowen of the Kenya Hospice and Palliative Care Association
Thinking about Nyeri Hospice
Many of these challenges will hopefully be diminished at our next clinical destination: Nyeri Hospice. Working in a more rural locale, with an urbanized center that does not reflect that of the country's capital, including the available time and commitment of caregivers to honor interview commitments, I am hopeful that interviews will be completed sooner and that some of the shortfall interviews we experienced in Nairobi Hospice- especially the cognitive interviews – will be more than compensated for by Nyeri residents. Let's see what happens!
Related Info